The Djembe is West Africa's popular drum. It has a remarkably flexible range of tones, produced by its thin goat skin, shape and tuning. Today, this drum is gaining popularity throughout the world as a great addition to drumming circles, rituals, and gathering or to play alone. Our djembes are true authentic African djembes. They are made in Africa by very talented Africans in the traditional methods. They look and sound wonderful. These drums will be a great addition to your life and collection.

The bass is played with an open hand in the center of the drum, producing an incredibly deep and resonant note. The tone is played near the rim of the skinwith a firm hand, producing a high pitched note. The slap is played by a pivoted Open hand on the rim of the drum, by throwing the fingers forward

to slap the skin. This produces a crisp, sharp note which can cut through the loudestmusic. We have several styles and sizes available to choose from. The djembes with traditional shells have no carvings on them. We also have djembes with carved shells.The carving varies from tribal village scenes, to adinkra symbols and various animals etching.These djembes are all produced by the same makers in Ghana, They have the same excellent quality skins, double rings at the top, and quality, non stretch rope. All our djembes are hand carved from a single piece of wood. We received containers from Ghana several times a year, so we are constantly updating our stock. You only need to decide what size you prefer and what shell you would like.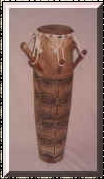 We offer a collection of drums to our customer. Whether it is to entertain yourself, playing a group or simply want to get your groove on. Our African drums have what it takes. So were offering you a few items, to purchase. So, check out the items we have to offer and make your order today.

A talking drum used with a light crooked drum-stick, pressing and releasing the measure the strings while holding it under the upper arm.



Drum is magnet. It draws man to it, when it rumbles. No one can stands still. Its vibrations move every marrow of a tone. No one feeling the impetus is able to resist its impulses. Drum is like a bewitching woman, its sight and sound convocation souls together and brings to all awareness and fulfillment of yourself.
If you have a specific product in mind which does not appear in these pages, please contact us at ida9@yahoo.com and for general information contact jatogo@aol.com we are always updating our product selection. If you experience any problems with this site, email anthony@aon.at
Drums

sku-1

$85& Up depends on sizes

Hands Bags

sku-2

$40 to $85 depends on sizes

Carvings

sku-3

$35 to $250

depends on sizes

Accessories

sku-4

$10 to $85